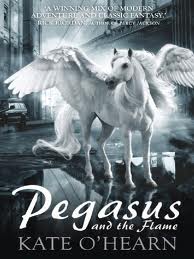 The Flame of Olympus, also known as Pegasus and the Flame is the first book in the Pegasus series by Kate O'Hearn.
While the Nirad army is destroying Olympus, Paelen the Magnificent and Pegasus manage to escape, only to have Pegasus crash-land on an apartment building and Paelen captured by the sinister government agency, the CRU. Luckily for Pegasus, the apartment he landed on is home to Emily Jacobs, who is quick to befriend the Olympian. Unfortunately, because of the CRU, Emily, her new friend Joel DeSilva and Pegasus have to flee to find the Flame of Olympus before all the Olympians are destroyed. and love
Characters
Edit
For photos involving Pegasus and the Flame, click here.